Bedia UV
April 20, 2016
Bedia UV is the third version of the Home Theatre application. It is now a Windows Universal Application. The update will allow access to more online media thanks to the new MS Player Framework
Because of a number of limitations of the Windows Universal Platform, there are several issues that cannot be handled at this time. At this time Bedia NV has been updated with the features in Bedia UV and it my preferred home theatre application.
Bedia is designed to be an easy to use media player for your television. A mouse is used for a remote. The benefits of this are you don't need line-of-site, like standard remotes, and the ease of use. All actions can be seen on the television, so no more hitting the incorrect button while watching a movie in a dark room. The mouse scroll wheel moves you through available menus and navigation options (during playback) while the left button is "Select" and the right button is "Back". While media is playing if you scroll the list of navgation options is shown as a pair; Left button or Right button. Very simple and easy.
One or my bigger complaints about many media players designed for use on a television is that the application would decide how to organize your media. The Bedia family of media players allow you to add as many folders to the Home Page as you want, including sub folders, and these are displayed at the top making them easy and quick to access.
Bedia and Bedia NV came about because of my desire to have a home theatre application that fit my needs. I played with multiple software and devices and all of them forced the user to sort data the way the application wanted to sort. Both versions of Bedia allow the user to add multiple folders to the Home Page. Users can sort their data the way they want and simply have the folders as the top items on the Home Page.
Another issue with all Home Theatre devices and applications is that the remote is a collection of small buttons and different icons that the user must take their focus from the content. This application uses a standard computer mouse, the scroll wheel allows the user to scroll through the media when selecting one or more to play, and then during playback the scrollwheel allows the user to see the navigation options on the television/monitor.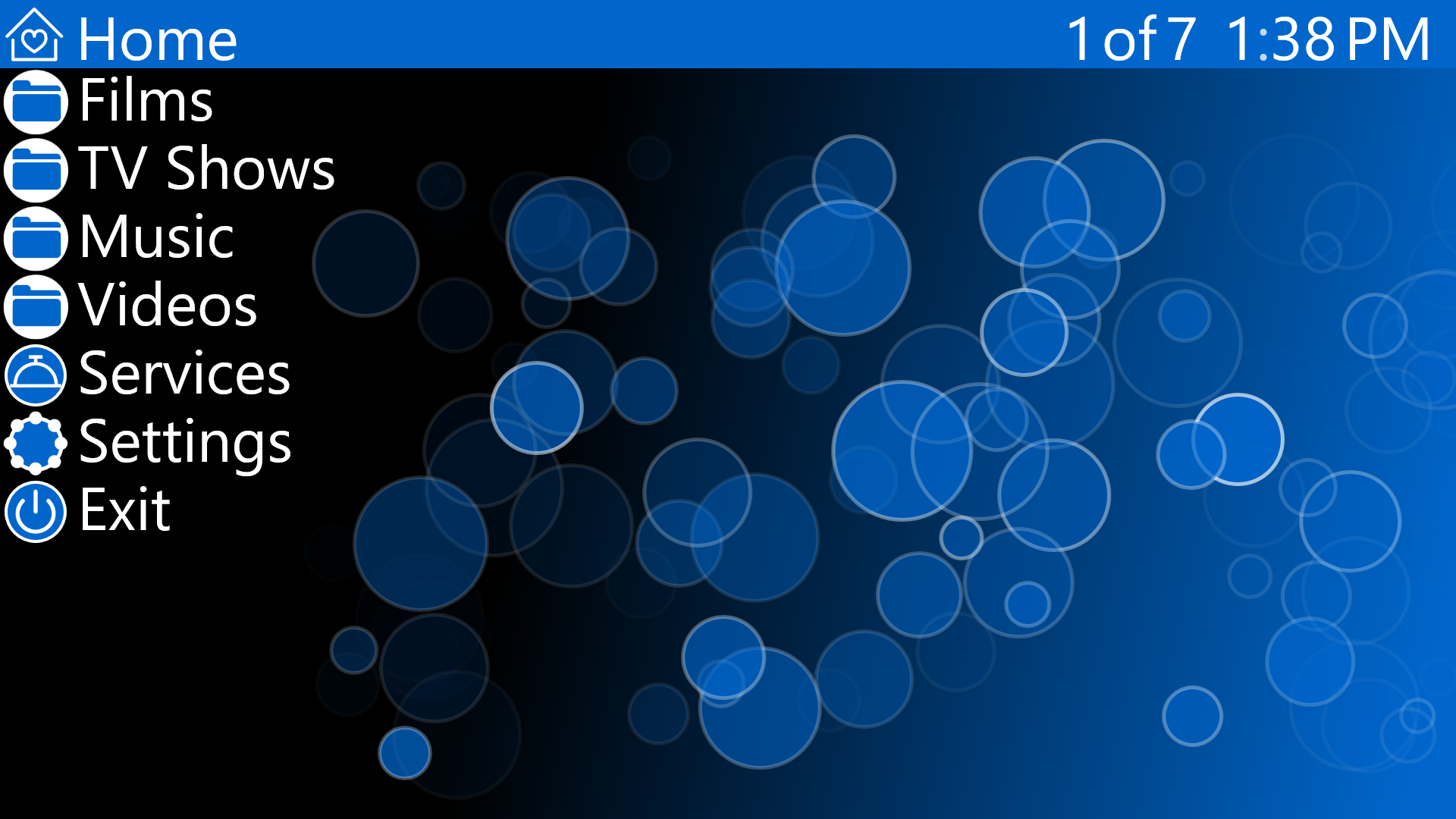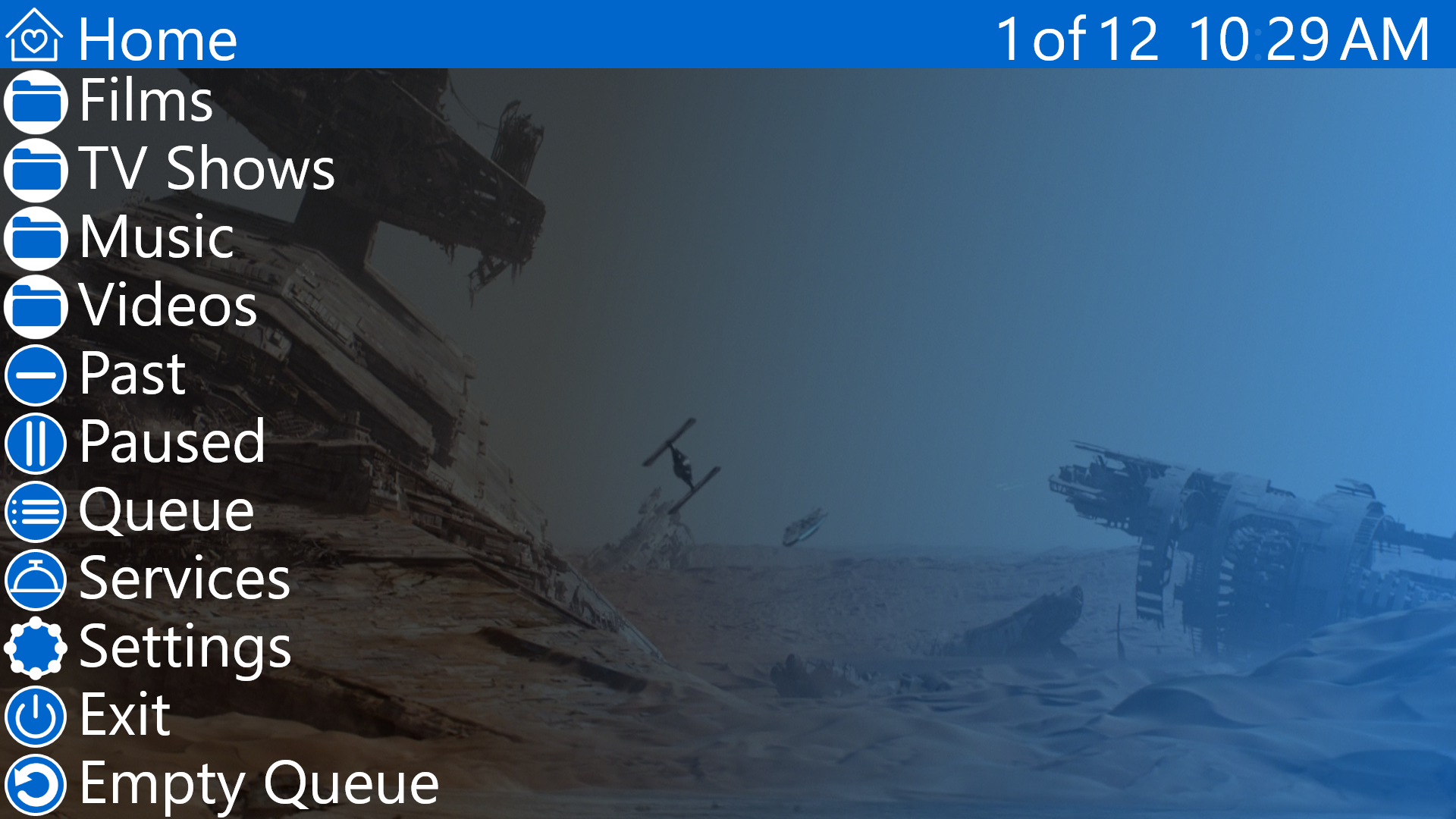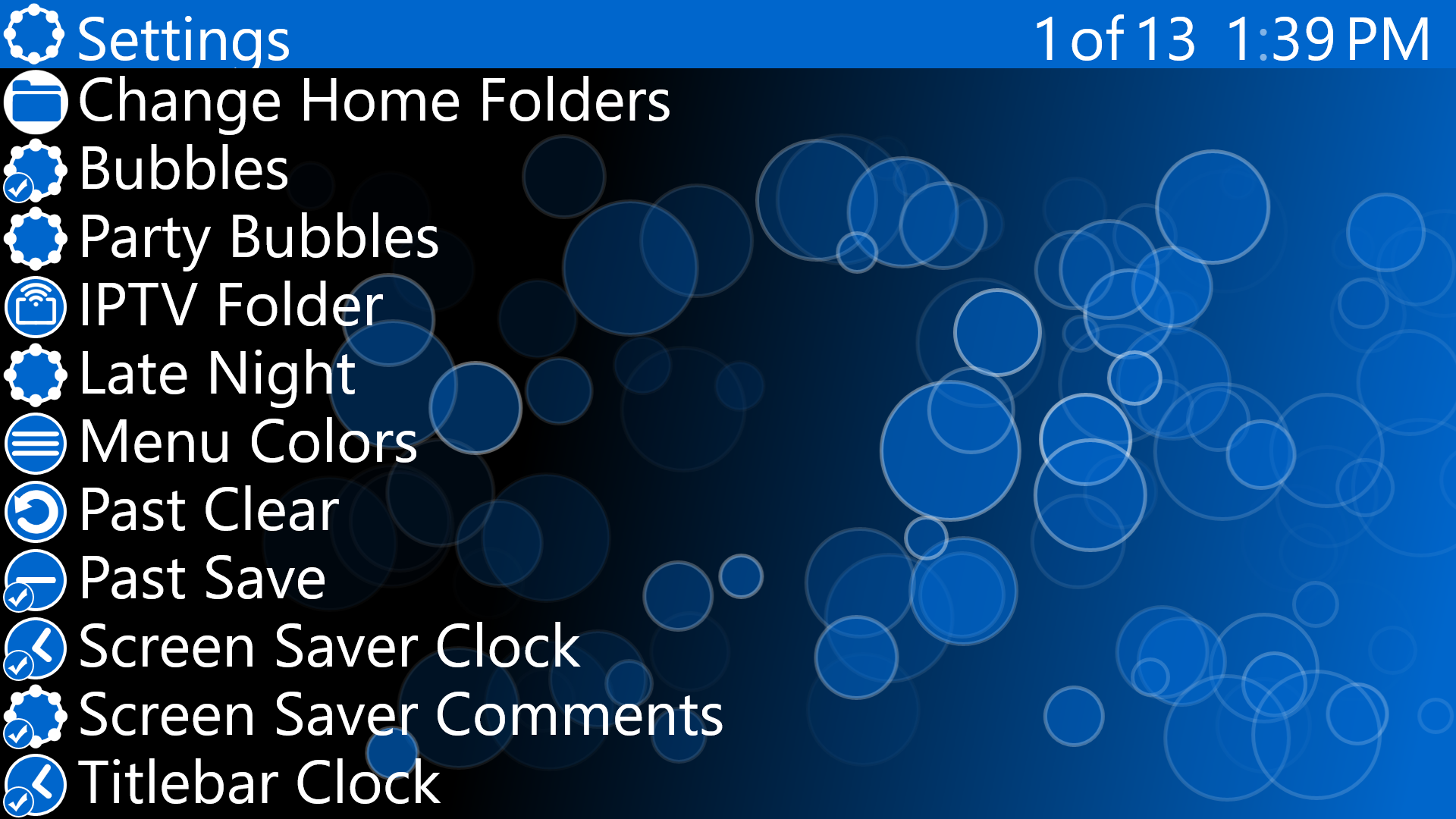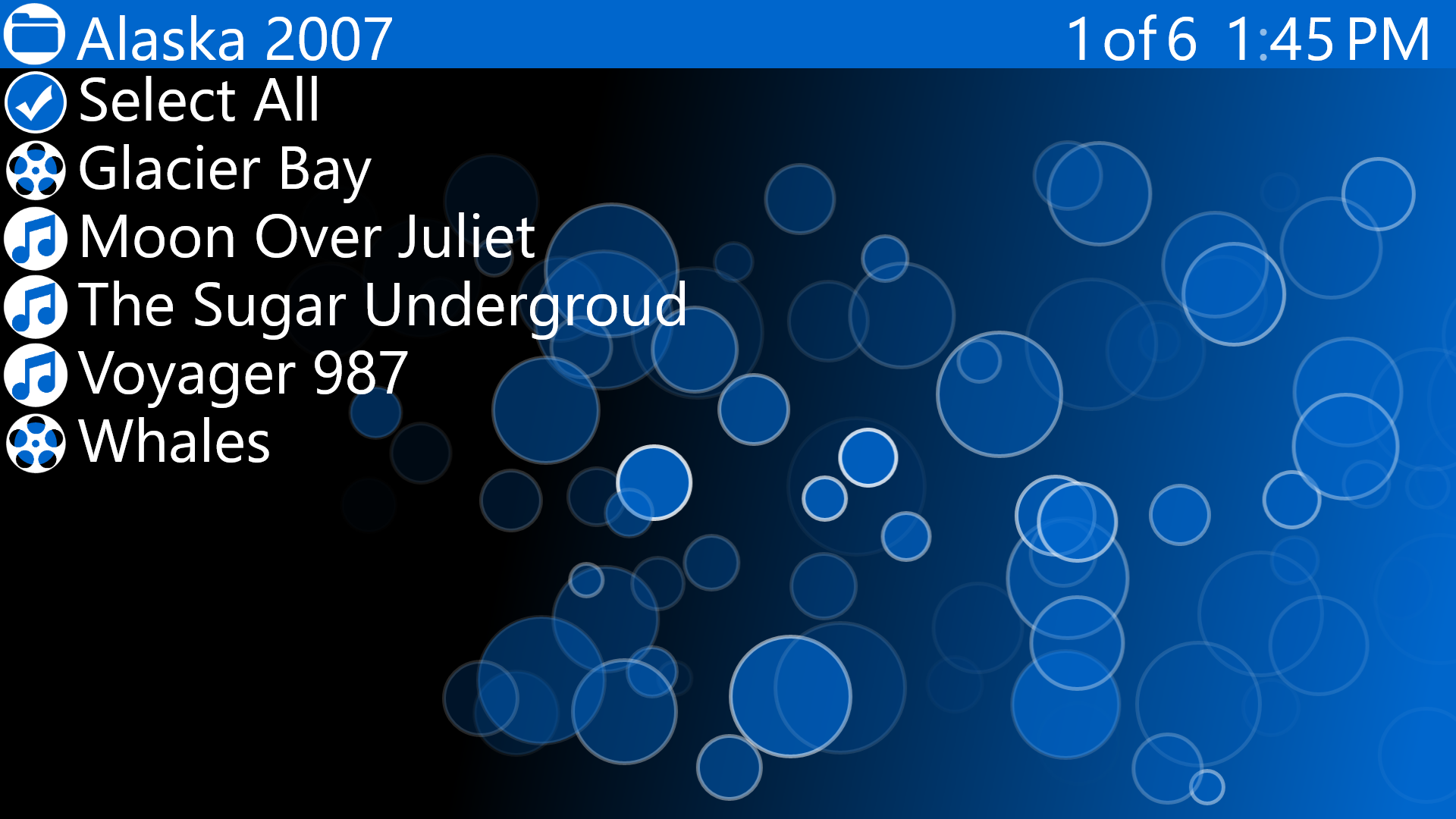 Navigation
The mouse scroll wheel is the main navigation tool. It is used to scroll up and down the menus, and during media playback to show the navigation commands.
Left mouse button: When viewing the menus this button selects a Menu or Media item. During playback this selects the left Navigation Command, as seen when scrolling.
Right mouse button: When viewing the menus this button is the Back button. During playback this selects the right Navigation Command.
X-Button 1: This activates the Page option. When this is selected a single click of the scroll wheel moves the menu an entire page.
X-Button 2: This will select the currently media and play it. If one or more media are already in the playlist then Play is activated.
Touch is also supported. You may select any menu item or the right-half of the screen to go back to the previous menu.
Keyboard Shortcuts
- Menu -
Escape, Back, Left Arrow: Go back one menu
Enter, Space, Right Arrow: Select current menu item
Up Arrow: Move up one menu item
Down Arrow: Move down one menu item
Page Up: Scroll up one page
Page Down: Scroll down one page
P: Play media
- Playback -
Escape: Show menus
Up arrow: Show navigation, move naviation options
Down arrow: Show navigation, move naviation options
Left Arrow: Select left navigation option
Right Arrow: Select right navigation option
Space, P: Pause/Play current media
V: Raise volume
Files Supported
Audio: MP3, WMA, WAV, M4A, FLAC
Video: AVI, ASF, MP4, M4V, MPG, MPEG2, MPEG4, WMV, 3GP, MOV, DIVX, MKV
Playlists: M3U
Services
NYC MTA Status Information. Shown only if you are within the NYC area.
Podcasts
Space. Assorted views from the International Space Station. These are only available when there is signal from ISS and on the day side of Earth. A map showing the current position of ISS.
Theatre locations, shows and movie times.
Weather
Settings
Change Home Folder: Add or remove folders for the home page.
Bubbles: The animated bubbles on the home page.
Colored Bubbles: Random colored bubbled on the home page and audio visualization.
Display Audio Info: Displays the file name when audio starts.
IPTV Folder: Open the folder for placing IPTV playlists.
Late Night: Bubbles are only outlined in color and the background is black. This is easier on the eyes after 9pm.
Menu Colors: A list of existing colors to change the bubbles, icons and enviroment. An option to select your own custom color is also available.
Past Clear: This will delete media history information on this local machine.
Past Save: Media history will be saved. Media icons will display an icon if media has already been completely played (the Play icon) and or paused (the Pause icon). If selected the last played date and time will be displayed.
Screen Saver Clock: A clock will be displayed after media has completed or if no actions are taken for 8 minutes.
Screen Saver Comments: Random comments and quotes will be displayed at random times when the screen saver is displayed.
Titlebar Clock: A clock will be displayed on the upper right hand of the titlebar.
Video Stretched: This will force video media to stretch to fit the entire screen.
Windows Volume: If this option is on then when the application's volume is at or below 5% Windows volume will be lowered. If the application's volume is at or above 100% then Windows volume is raised.
About. Some basic information about the application and where some data is gathered.
Available in the Windows Store
Bedia UV is now open source and available on GitHub
Privacy Policy
Bedia UV uses the computer's IP address to get the location. The location information is used to get weather, transit, movie theatre location and movie times. Media history is stored within a text file with the application, this data can be cleared from the Settings menu.
Media history and other usage is not sent to Blissgig.com or other parties. Period.
Technologies: C#, UWP, XML, JSON, Source Safe