Bedia
January 27, 2011
I had collected over 1000 albums and in the late 90s I learned about MP3 and converted my collection so I could use my computer as a very functional jukebox. I also collected a large number of DVDs and thought it would be nice to use the same computing power to allow me the ease of viewing this material without having to shuffle through discs.
Over the years I have used a number of technologies to stream my DVD and video collection anywhere in my home. Most of these applications were too slow, too difficult, did not have the features I wanted or simply did not work reliably. So with this in mind I created Bedia.
Bedia is designed to be a simple interface to a computers hard drive that is navigated using any two button mouse that has a scroll wheel. The scroll wheel is used to navigate up and down the list, the left mouse button selects items and the right mouse button returns to the previous menu. Simple enough? I thought so. The mouse does not need to lie on any surface and there is no actual mouse icon/pointer as the user is using the mouse like a simple remote control. One of the problems with current tv remote controls is that they have so many buttons and you are moving your concentration from the tv/monitor to the remote and back again. This is not an effective way to view your media. Another problem with many tv remotes is that they are line-of-sight, so if your remote is not preciesly aimed at the tv or video box you are stuck pressing the same button multiple times. Bedia seeks to resolve this by allowing the user to use inexpensive wireless mice that do not require line of sight and the options; Fast Forward, Rewind, Pause, etc, are viewed on the top of your tv/monitor. This way your are looking at your media while you are selecting what function you wish to perform. Easy right?
An Introduction to Bedia.

As you can see from the following two images, you can see that I have setup Bedia to just view a collection of folders that the user can choose from your local or network hard drive. Because each user may organize their files within your own logic I believe it would be easist to allow the user to choose their own oganizational patterns. There is no database and nothing to update, unlike so many other media systems. So the moment the user selects a menu the data within that folder is displayed. There is no need to update a database or system files. If you add new media to one or more of your folders, when you select that option within Bedia the new media will be displayed.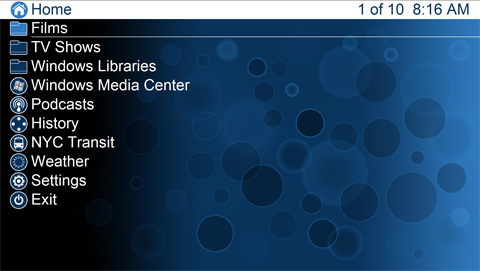 Menu with video playing*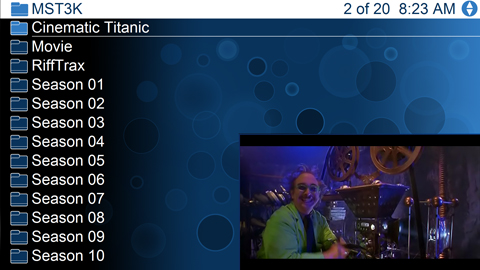 Settings Page

Bedia running on a TV.

Commands available during playback:

Play/Pause
Stop
Quieter (volume)
Louder (volume)
Previous
Next
First
Last
Rewind
Forward
Back 1 Minute. There are also 30 second, 5 and 10 minute incriments
Forward 1 Minute. There are also 30 second, 5 and 10 minute incriments.
Quit
Menu. This takes you back to the menu, which while playing media is now partially transparent (see image below) so that you can add new media to the playlist while continuing to watch the currently playing media.
Features:

Multiple audio and video media can be selected to play. So, for example, a user can select a tv/video and then a collection of music media to play after as a way to drift off to sleep after watching a favorite program.
Bedia only displays data that it can play, so excess data will not clog up the view.
Bedia can automatically save media history into a playlist so that a selection of media can easily be recalled at a later date.
Podcasts (I am taking requests for podcasts that you would like to have included)

Anderson Cooper 360
BBC News Local
The Dumbasses Guide To Knowledge
Filmcast
Great American Broadcast with Alex Bennett
.NET Rocks
Radiolab
Real Time with Bill Maher
Ricky Gervais
Savage Lovecast with Dan Savage
Science Friday
Sex Out Loud with Tristan Taormino
The Skeptics' Guide to the Universe
Star Talk Radio with Neil deGrasse Tyson
WTF with Marc Maron

New York MTA Transit information, subway, bus, trains and bridge conditions. Each transit line can be added or removed from the menu so you can view only the transit lines of which you are interested.
Local weather data from Yahoo.com.
Menu option to switch to Windows Media Center, if WMC is installed
Speech Recognition
Windows Libraries and now available on the home page
Menus; Windows Libraries, Windows Media Center, Podcasts, NYC Transit, and Weather can be enabled/disabled via the "Settings" page.
Menu Options: Size, Color, Font
Optional clock on the Titlebar
Save current playlist in History. Available in Settings
Last Played. This option will display the last date and time a media has played. This info is only displayed on the first media in a playlist
Customization is available via "Advanced Settings" under the "Settings" menu. Each folder can have it's own icon by adding a folder.jpg or folder.png to a folder and selecting "Album/Folder Art" in the "Settings" menu. Each file can have it's own image (jpg or png) as long as it has the same file name as the media.
Bedia now has visualizations during playback of audio files. The visualization selected is the current visualization within Windows Media Player. There is no current option to change the visualization from within Bedia.
If your mouse has the extra buttons, X1 and X2 there are a few shortcuts available: Within the menu the X1 button will activate/deactivate the Page Up/Page Down option. This will show an icon in the upper right when this is active and each nudge of of the mouse wheel an entire page will move. The X2 button, if the current menu is a media or playlist, will load and play that media and all that has already been selected. This way you don't have to scroll all the way to "Play". During playback the X Buttons will Pause/Play media.
Bedia was written using Visual Studio 2012 using the Windows Media Player as the core player technology and MS Desktop Speech Recognition. The abilities of the speech recognition depend on the capabilities of your computer. The next version of Bedia will use Microsoft's Hawaii speech recognition.
Update: Jan 2nd, 2014. Added additional podcasts, available via the Settings menu. Update the UI to be consistant with the upcoming version of Bedia NV Fixed a few minor bugs.
System Requirements:
Windows 7 or 8. Bedia will work on Vista or Windows XP, however performance and abilities are degraded with these operating systems.
A minimum of 1gb RAM
10mb hard drive space for the application. Additional storage space will be needed to store audio and video media, obviously.
.Net 4.0 Frameworks. This may already be installed. If not the Bedia install will inform you, so then download and install this component.
Download Bedia 1.6
Source Code is available at GitHub
VLC has released a new version (2.0) and unfortunately the new version has broken the existing interfaces. Version 1.0 of Bedia only works with VLC 1.1.11 or earlier. There are some known issues with this version.
Download Bedia 1.0, VLC Version
* Kudos to MST3K.
Technologies: VB.NET, XML, Windows Media Player